Griffin Holtby Doesn't "Rock A Little"
Griffin Holtby "Rocks A Lot". Griffin Holtby is a Texas-based musician who discovered his love for music when he was living in San Miguel De Allende, Mexico in middle school. He had previously attended The Paul Green School of Rock in Dallas, but it was in Mexico that he truly began to understand the power of music and knew that he wanted to be a part of it.
Griffin is known for his high energy performances and his music has been described as Blues Influenced Power Rock and Outlaw Blues. His story-driven songs are inspired by art and real life and he hopes to use his music as a way to spread peace and be an agent of change. His goal is to make people feel hope and to let them know that they are not alone.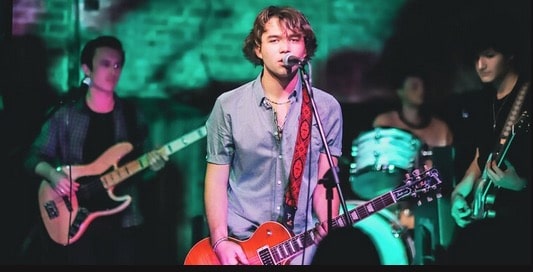 In 2018, Griffin embarked on a 3-week Boys of Summer United States Tour and ended the year in Houston on an Anti-Bullying tour called All Star Nation. He has played at a variety of venues including Whiskey A GoGo in Los Angeles, Underground Arts in Philadelphia, Lincoln Hall in Chicago and House of Blues, Hard Rock Cafe, Curtain Club and Trees in Dallas.
When asked about his experience performing at Texas Music Cafe for the first time, Griffin replied, "It was awesome! I had so much fun." He explained that he usually does not write out a set list for his acoustic shows, but decided to do so for this performance and it went smoothly. The audience's response exceeded his expectations, with them being more engaged and up close than he had anticipated. This performance was particularly motivating for him as it made him feel like he was gaining momentum in his art and career.
Griffin performed a mix of unreleased songs and some that he had never recorded, including "Queen of the Underground," "Greenville," "Best Friends," "Maybe I'm Not Listening," and "Poker With The Devil/Learned My Lesson." The sound and technical aspects of the venue suited his music perfectly, and he was impressed by the professionally curated location with the right amount of intimacy to make it feel like a combination of a stadium and a house show.
The audience responded positively to Griffin's music and energy, and he had a memorable moment with one audience member who was hootin' and hollerin' during the second set and they had a bit of banter. Griffin also had a great interaction with the staff at Texas Music Cafe and is planning to come back to the venue in the future.