Interview with Isaac Sloane of Isaac Sloane and the Sound Brigade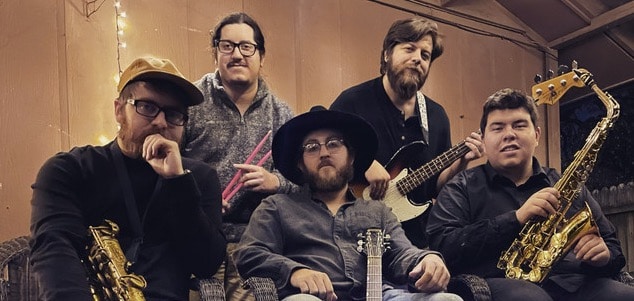 Isaac Sloane and The Sound Brigade is a six-piece band that combines psychedelic jazz with blues and rock 'n' roll. Based in Denton, Texas, the group was formed in October 2021 and has quickly become a local favorite due to their distinctive sound, which seamlessly blends in-your-face rock 'n' roll with soulful blues and virtuoso jazz elements. The band members are Michael Peterson and Donicio Trujillo on saxophone, Bailey Anderson on violin, Anthony Peterson on drums, and Michael Peterson (yes, there are two!) on bass. Isaac Sloane, the band leader and guitarist/vocalist, completes the group by writing songs that pay homage to the iconic hard-hitting sounds of the late 1960s and early 1970s, reminiscent of bands like Cream, Zeppelin, Mountain, and Hendrix, with a modern twist.
Isaac Sloane and The Sound Brigade to Ignite the Stage at Texas Music Cafe® on February 25th
We recently reached out to Isaac Sloane in anticipation of his upcoming performance
Texas Music Cafe: Thanks for taking the time to chat with us today. Can you tell us about your background and how you got started in the music industry?
Isaac Sloane: I came from a musical family. I'm a third generation player, my father was a touring blues musician on the east coast and my grandfather was a famous fiddler in Roanoke, Virginia. I never got into music as a young kid, even though I grew up around it. I was an athlete growing up and actually played collegiate baseball at Oklahoma Wesleyan University. I didn't pick up a guitar and start writing songs until I was 20, but it came naturally to me being around it my whole life like it was.
Texas Music Cafe: What inspires your creative process when writing and recording music?
Isaac Sloane: Life events mostly, but also just being surrounded by all the immensely talented DFW players in the scene. I get a lot of inspiration from those guys.
Texas Music Cafe: Can you describe your live performances and what audiences can expect from your upcoming show at our venue?
Isaac Sloane: We are 7 phenomenal players who bring high energy and creative arrangement with our blend of jazz, soul, and blues rock n roll. You bring the crowd, we'll bring the loud!
Texas Music Cafe: Can you tell us about a particularly memorable performance or tour you've been a part of?
Isaac Sloane: We played a show back in August in Weatherford, Texas that truthfully we weren't excited for. We didn't really know what to expect but we were told it would be a smaller type show. Turns out those folks in Weatherford love to rock and they came out heavily! We had hundreds of people show up and get absolutely wild at that little bar on the square. They kept asking for more so we played well into the early morning hours, it was AWESOME.
Texas Music Cafe: How do you balance your artistic vision with the commercial demands of the music industry?
Isaac Sloane: We push to always sound like ourselves no matter what vision we're pushing for, we lucked out that all 7 of us are talented writers and arrangers so we don't have to consciously try to write catchy hooks and melodies, they just come naturally.
Texas Music Cafe: How do you see your music evolving in the future?
Isaac Sloane: As we get bigger opportunities we always push to write something new and try something we've never tried before musically. We don't wanna ever be put in a musical box. As more is demanded of us we seem to be able to always find another gear and take it to another level creatively and in our live show.
Texas Music Cafe: Can you discuss any collaborations or projects you're currently working on?
Isaac Sloane: We released our debut EP back in October, and continue to write new material and push our boundaries for upcoming sessions. We also plan to collaborate with some of the other DFW talent this spring and hopefully hit the studio with that.
Texas Music Cafe: Lastly, what is the meaning behind your band name, or any of your songs' title?
Isaac Sloane: Isaac Sloane & The Sound Brigade is a perfect name for this group because we pull from all of our collective influences to create a fresh sound that doesn't have a definitive genre. The Brigade is more of a musical force than it is a band.
Isaac Sloane and The Sound Brigade at Texas Music Cafe® on February 25th